Those eyes, those lips...that voice?
We wish our screen goddesses could do it all. With us! If you're looking for perfection, stick it in your ear. See if the voices measure up to the bodies and faces. These women are fairly obscure ill folks as far as the music world is concerned.
Here's Tina Louise doing "I'm in the Mood for Love," Marilyn Monroe (arguably the prototype for Tina's "Gilligan's Island" movie star doing "I Wanna Be Loved By You," and Brigitte Bardot joined by Serge Gainsbourg on the "J'Taime" demo (later re-done with Jane Birken, perhaps more prone to surprised gasps and groans than BB).
Mamie van Doren duets with June Wilkinson, Jayne Mansfield does a "Big Bopper" answer song, and you also get Raquel Welch's attempt at singing.
Oh...and "Am I beautiful/am I usable" is copped from AFI's Davey Havok and the song "The Killing Lights."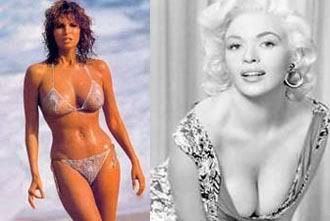 RAQUEL WELCH
JAYNE MANSFIELD
TINA LOUISE
MAMIE VAN DOREN
MARILYN MONROE
BRIGITTE BARDOT